Tally Training – Keyboard Shortcuts in 2 Mins!

Tally.ERP9 is an MS Windows-only Enterprise Resource Planning (ERP) software, extensively utilized in the accounting industry. Deployed by no less than 16 lac users around the world, Tally training is also in high demand these days among students looking for job-oriented training programs from reputed institutes.
The software supports accounting, inventory management, order management, tax management, payroll, banking and other such requirements of a business. It handles daily processes from recording invoices to generating various Management Information System (MIS) reports.
OK enough of the introduction, it's time to quickly move on to the business end – Shortcuts! Yes, I mean the keys or the key combos used on a keyboard to get things done quicker than repeatedly clicking the mouse buttons for accomplishing the same tasks. 
Shortcuts have been around and flourished since the emergence of keyboard computing in the 1970s. This is mostly because geeks are always on the hunt to eke out that extra productivity by having to not lift their dominant hand from the keyboard to grab the mouse repetitively. This greatly boosts the workflow as the keyboard becomes your main playground. 

If you're anything like me, you must have seen those movies where 'hackers' or 'handlers' of the hero (or villain) storm through the keyboard without touching the mouse at all. Yes, those scenes brought out some real self-loathing in me 😢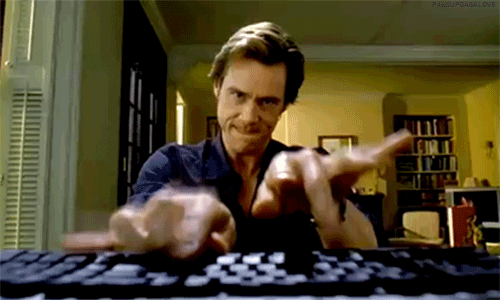 Nonetheless, without any further digression let us dive straight into learning some Tally shortcuts which greatly enhance the productivity and usability of Tally.ERP9.
| | |
| --- | --- |
| ACTIONS | SHORTCUTS |
| View the reports in automatic columns | Alt + N |
| To remove/hide the line in a report | Alt + R |
| To print a report | Alt + P |
| To export the report in ASCII, Excel, HTML, PDF, XML format | Alt + E |
| To view a detailed report | ALT + F1 |
| To create a master | ALT + C |
| To cancel a voucher | ALT + X |
| To insert a voucher | ALT + 1 |
| To duplicate a voucher | ALT + 2 |
| To open the GST portal in all GSTR form | CTRL + O |
| To export return in all GSTR form | CTRL + E |
| To toggle between invoice and voucher mode | CTRL + V |
| To accept a form | CTRL + A |
| To switch to the calculator | CTRL + N |
| To select the company or to open the company | F1 |
| To select Contra Voucher | F4 |
| To select Payments Voucher | F5 |
| To remove what has been typed into the data field while preparing a voucher | Esc |

Hopefully, we were able to catch your fancy in what was really just a trailer! Ready to dive into the world of Tally and learn more such awesome shortcuts and hacks? Or are you already thinking about a proper Tally training course to take your skills to the next level? Well, enough of thinking – time to act now!
Also, don't forget to regularly follow our Facebook, Twitter and Instagram pages for some awesome content!
Latest posts by Arghya Dutta
(see all)
DISCLAIMER: The content created above is for the readers' knowledge and information only. Before acting on any of the aforementioned article's points, it is advised to get expert advice.